Dakota Digital 1967-72 Chevy Truck Analog Gauge System with Clock VHX-67C-PA-S-B
5 Star Service
Easy Returns
Secure Payments
Free ground shipping orders $50+
Description
Dakota Digital 1967-72 Chevy Pickup Truck VHX Instruments - with analog clock gauge

1967 1968 1969 1970 1971 1972

VHX-67C-PA-S-B with SILVER ALLOY style and BLUE backlighting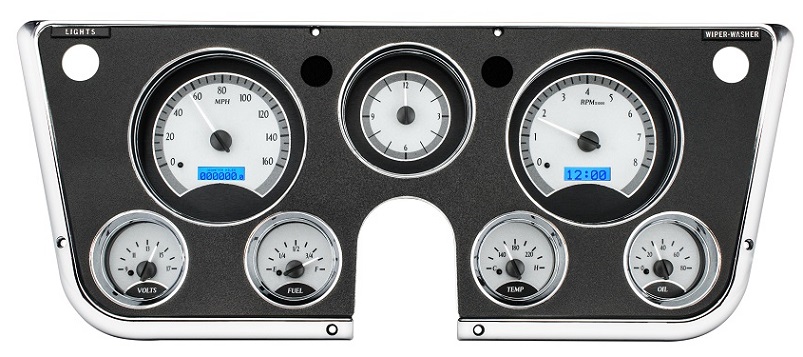 ---
For many enthusiasts, the 67-72 Chevy Truck set a new standard in styling. What better way of modernizing this iconic truck than an update like the VHX-67C-PA? This system includes an analog clock gauge within the center gauge opening.


*The VHX-67C-PA fits into a stock or reproduction front dash bezel, ICM-67C-PU sold separately in our store. Bezel shown in any pic is NOT included, shown for illustrative purposes only.

Fully lit needles, backlit faces, and highly visible LCD message centers are a few of the things that you can see which set the VHX Series apart from yesterday's traditional approach to instrumentation. A few of the features which you don't normally see are the micro-controlled precision stepper motors, solid state sensors for unparalleled accuracy, and user-customizable display feedback, all supported by an unrivaled limited lifetime warranty which has become the standard for Dakota Digital instrumentation systems. Completely engineered and manufactured at their facility in Sioux Falls, South Dakota, the VHX Series has completely revolutionized the instrumentation industry!

MHX-67C-PA-S-B Metric system (KM/H and degrees Celsius) is available as a custom option (no additional cost) but may take 4-8 weeks to build.

VHX System Includes:

Analog Gauges

Speedometer - 0-160 MPH (optional metric version 0-255 kmh)
Tachometer - 0-8000 RPM
Oil Pressure - 0-80 psi
Water Temperature - 100-260ºF (optional metric version 40-120ºC)
Fuel Level - E, 1/4, 1/2, 3/4, F
Voltmeter - 9-17 VDC

Digital Message Center

Standard Displays:

Odometer (One time user settable, Million Mile)
Dual (A/B) Trip Meter (0-9,999.9)
Clock (12 hour)

Performance Meters: 

0-60 MPH Timer (0-100 kmh)
1/4 mile time
1/4 mile end speed (trap speed)
High speed recall
High RPM recall

Built-In Indicators:

Turn Signals (Left/ Right)
High Beam
Check Engine
Parking Brake
Cruise Control (On/ On & Engaged when vehicle is equipped)
Gear Position (Optional GSS-2000 sensor required, sold separately)
4 x 4 (When vehicle is equipped)
Wait to Start (When vehicle is equipped)


Included Sensors:

Water Temperature - 1/8" NPT, ground isolated sensor with a 10 ft harness.
Oil Pressure - 1/8" NPT solid state sensor with a 10 ft harness.
Cable Drive Speed Sensor/Generator - Replaces Ford and/ or GM style speedometer cables with a 10 ft harness.
Bushings - Each kit comes with 1/8" to 1/4", 3/8" and 1/2" NPT bushings along with bushings for 12mm and 16mm x 1.5 threads.
More info about this system and pics are available below. This listing is for ONE VHX gauge system with your choice of style and backlighting color. Please let us know your options when you make your purchase.

---
---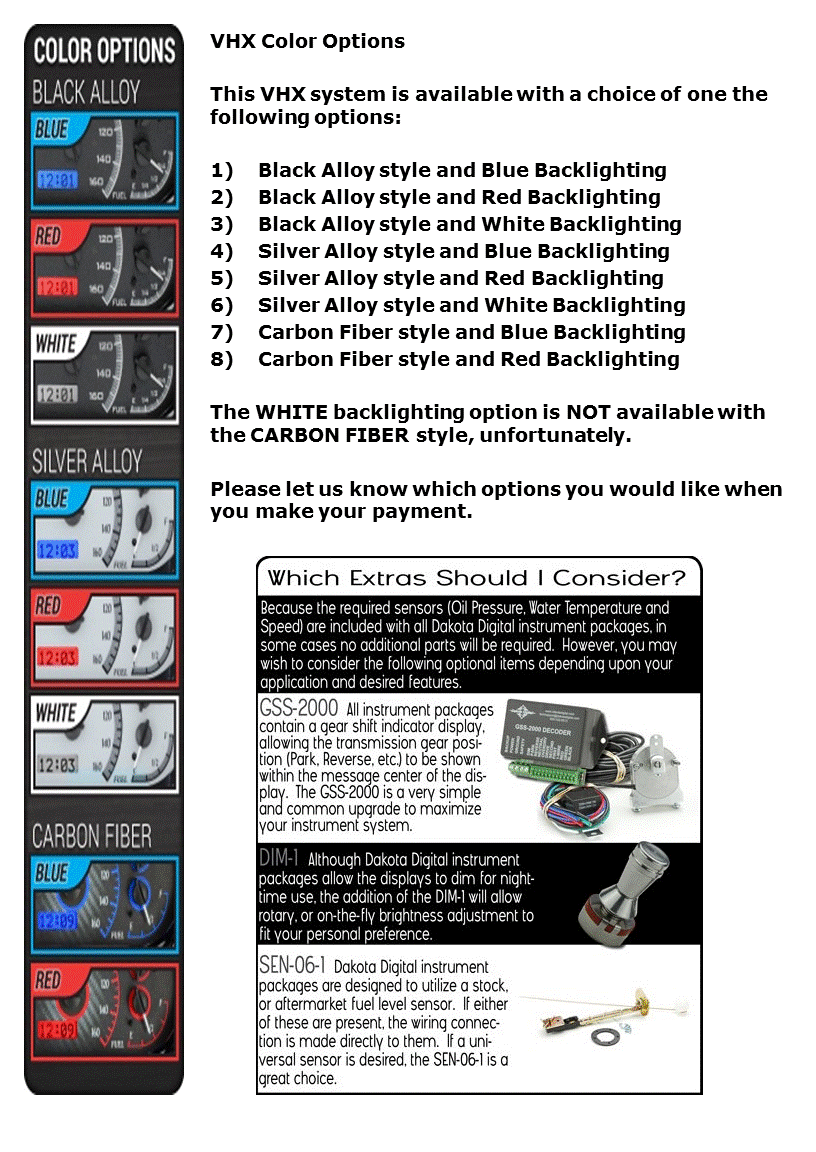 ---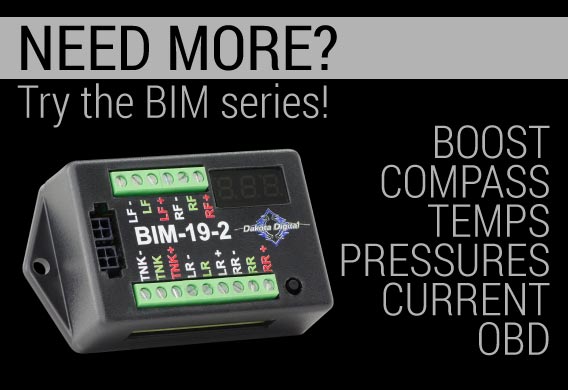 ---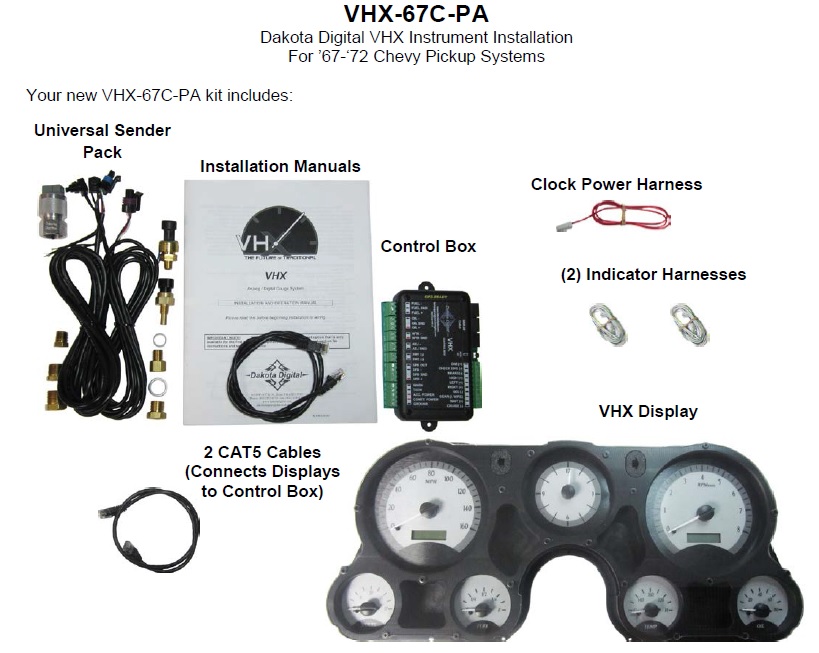 ---
---
VHX-67C-PA with SILVER ALLOY style and BLUE display: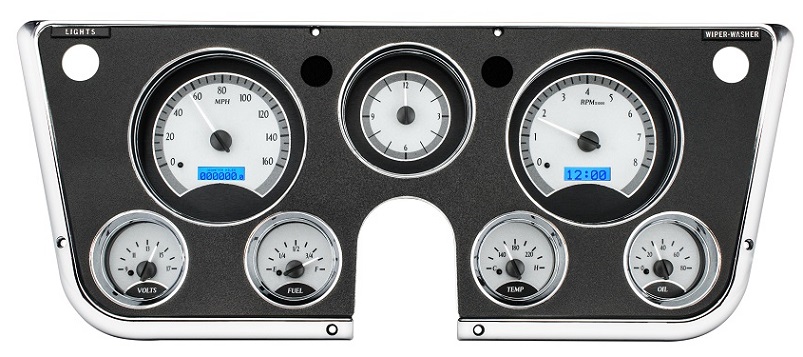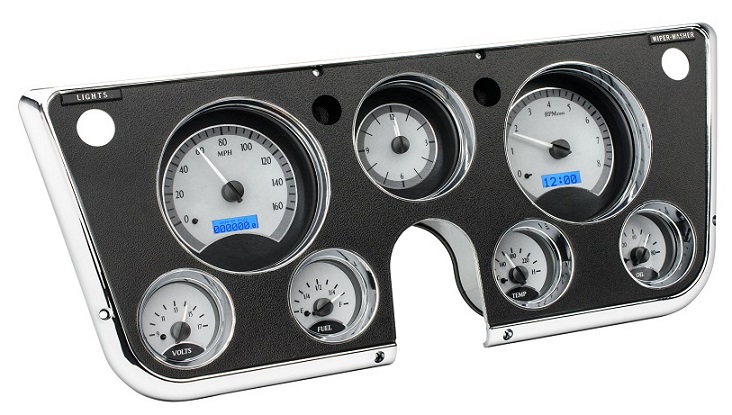 At Night: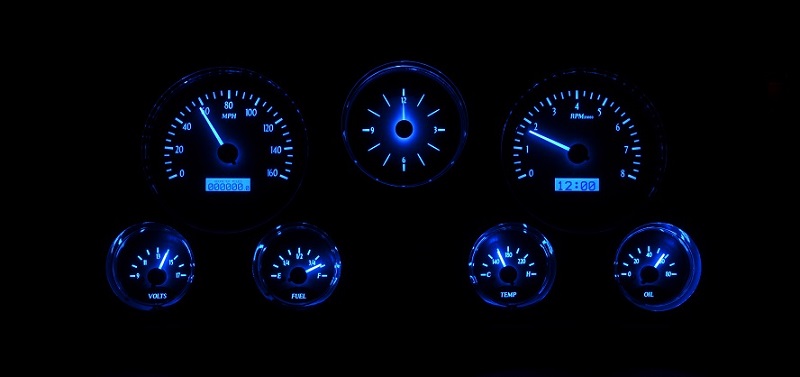 ---
The following options are available for purchase separately in our store (not included):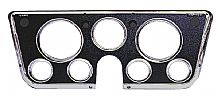 ICM-67C-PU - Replacement Bezel for 1967- 72 Chevy Pickup, available for purchase separately in our eBay store.

---
Also available for purchase separately in our store, VHX-67C-PU - same sy
QUESTIONS & ANSWERS
Have a Question?
Average Response Under 5 (Business) Hours
Ask a Question