Dakota Digital 69 Chevy Chevelle El Camino Analog Gauges & Clock VHX-69C-CVA-K-R
5 Star Service
Easy Returns
Secure Payments
Free ground shipping orders $50+
Description
1969 Chevy Chevelle/ El Camino / Malibu VHX Instruments with Analog Clock Gauge

from Dakota Digital
VHX-69C-CVA-K-R with BLACK ALLOY style and RED backlighting



---
The new VHX Systems fit directly into the stock instrument bezel of a 1969 Chevy Chevelle and El Camino without modification, adding a wealth of features to this iconic vehicle. This system comes with an analog clock gauge (traditional style).

A prime candidate for today's Restomod builds, the '69 Chevelle has been a favorite among enthusiasts for decades. For those that want it "stock, but not", VHX-69C-CVL fills a stock or reproduction dash bezel (bezel shown in pics is not included) with up-to-date and stylish instrumentation, no cutting required! Stock turn signal locations can be retained.

Fully lit needles, backlit faces, and highly visible LCD message centers are a few of the things that you can see which set the VHX Series apart from yesterday's traditional approach to instrumentation. A few of the features which you don't normally see are the micro-controlled precision stepper motors, solid state sensors for unparalleled accuracy, and user-customizable display feedback, all supported by an unrivaled limited lifetime warranty which has become the standard for Dakota Digital instrumentation systems. Completely engineered and manufactured at their facility in Sioux Falls, South Dakota, the VHX Series has completely revolutionized the instrumentation industry!
* Requires the use of the factory bezel. Bezel shown in any pic is not included, shown for illustrative purposes only.
---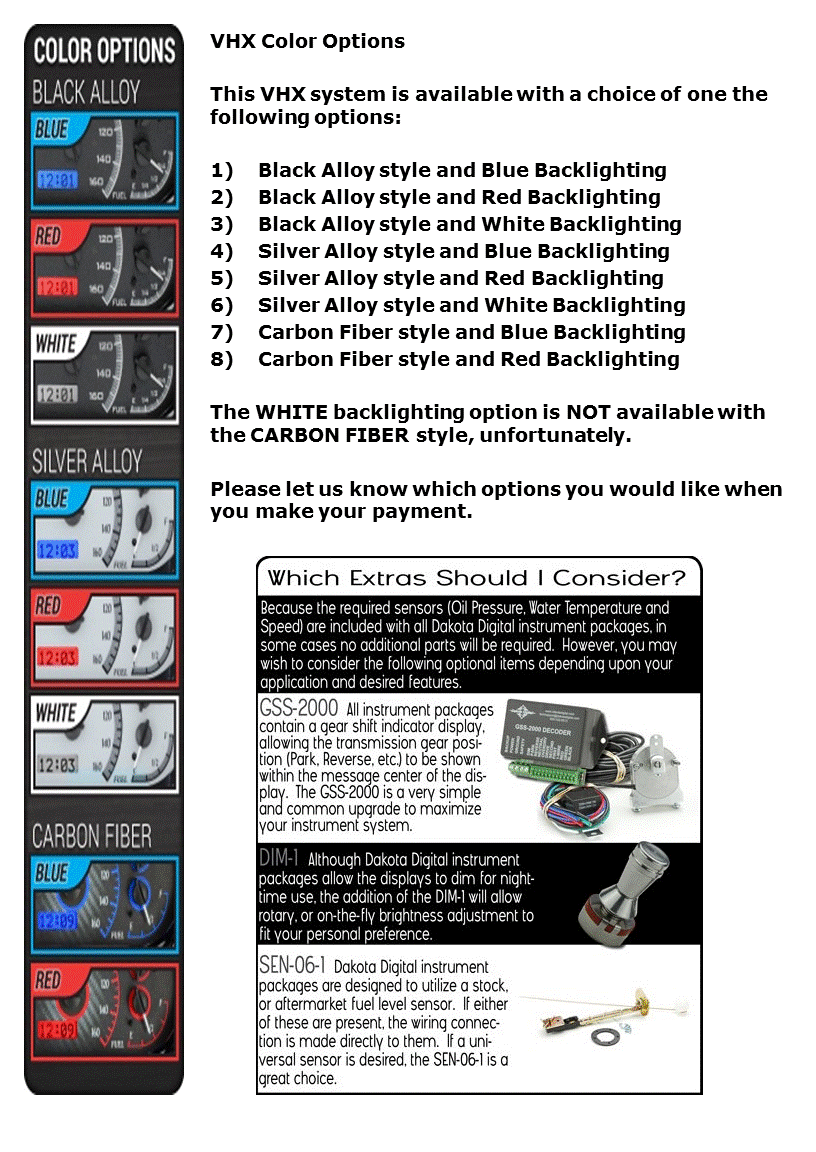 ---
This listing is for the VHX-69C-CVA so it will come with the ANALOG gauge instead of the digital gauge shown in the following pic, but all the other components are the same: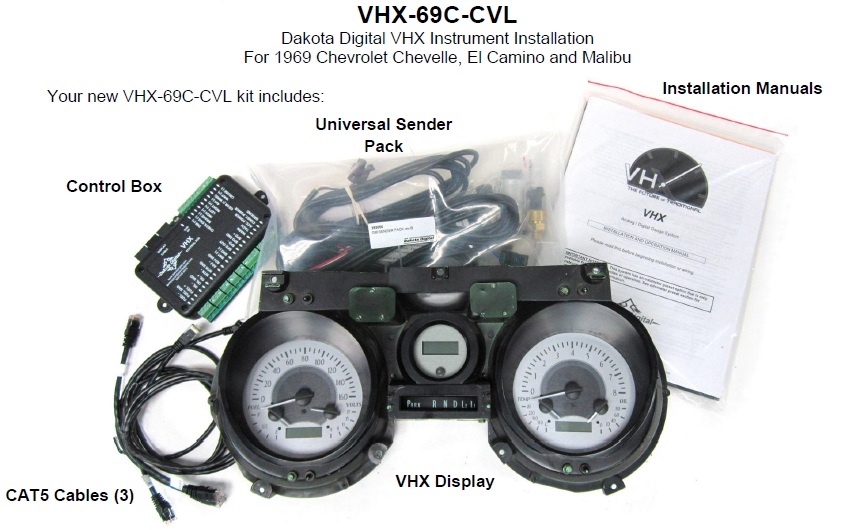 ---
---
---
VHX-69C-CVA with BLACK ALLOY style and RED display (shown mounted in bezel, bezel is NOT included):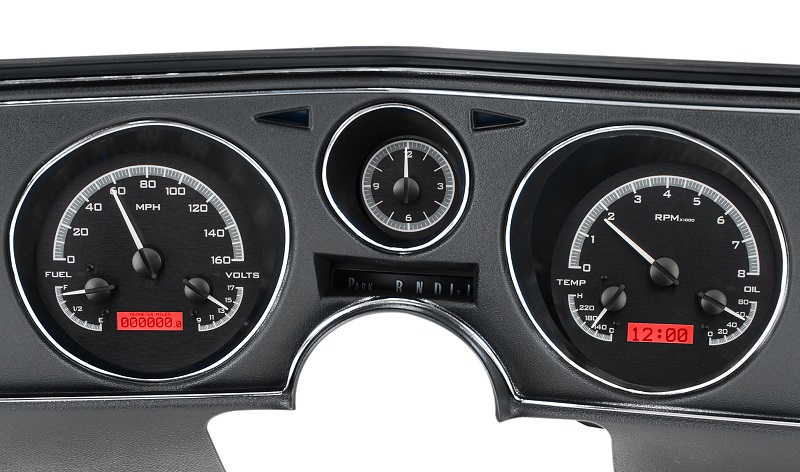 At Night: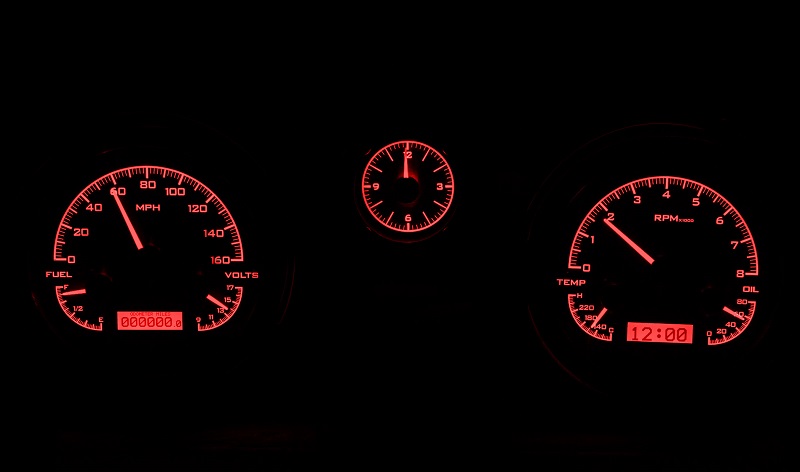 ---
BACK:

---
Also available with a digital clock instead of the analog one, look in our store for part number VHX-69C-CVL (sold separately, not included in this listing):

---
---

---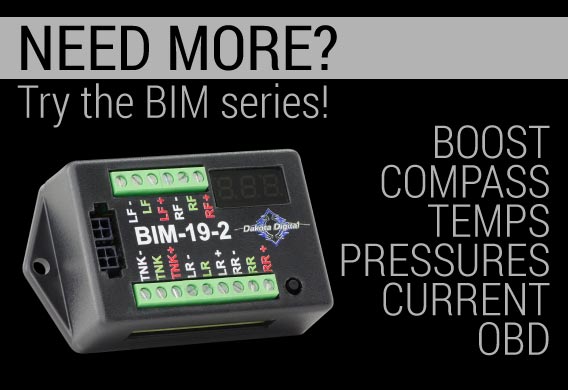 ---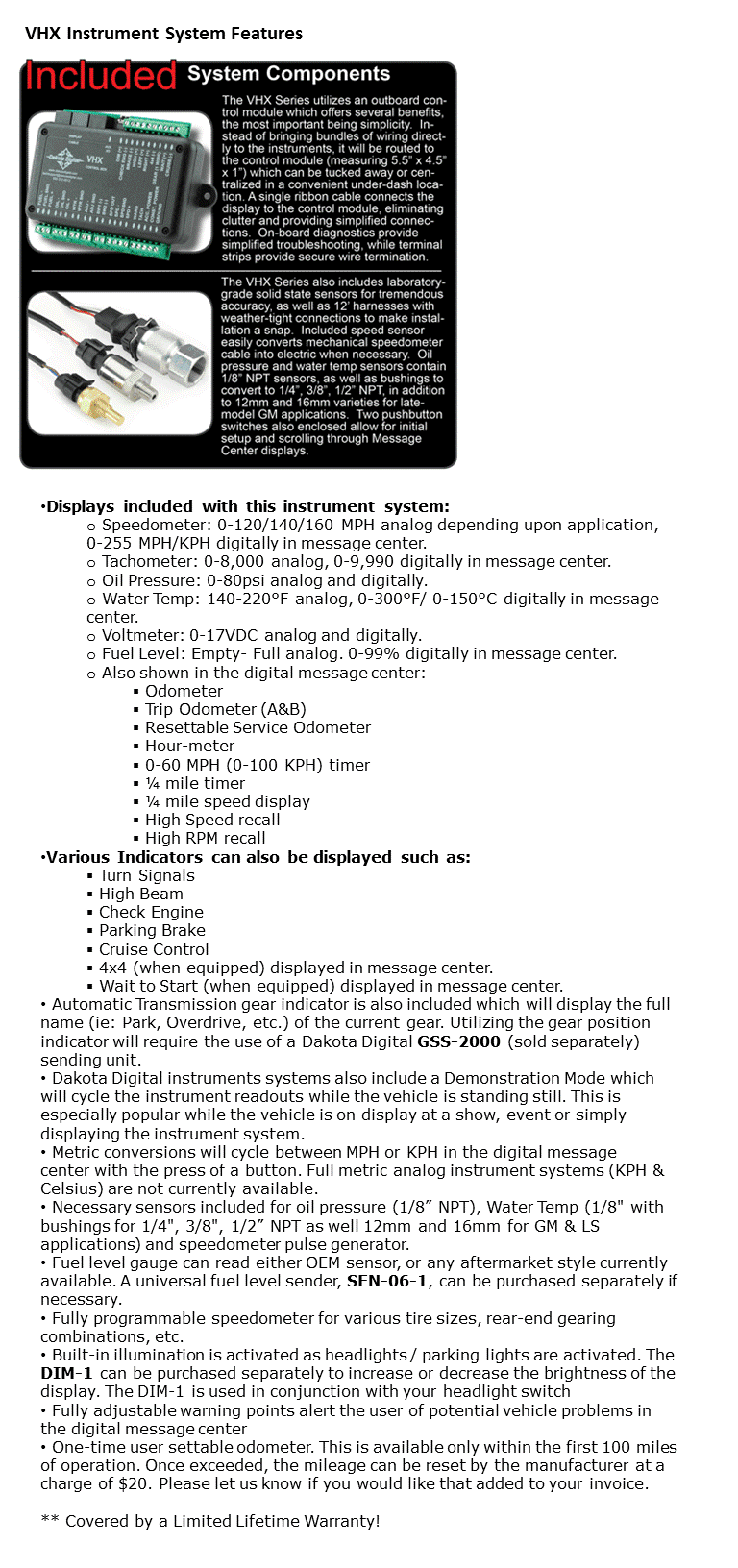 ---
---
Brand: Dakota Digital
Part Number: VHX-69C-CVA-K-R
QUESTIONS & ANSWERS
Have a Question?
Average Response Under 5 (Business) Hours
Ask a Question