Dakota Digital 1978-88 Monte Carlo El Camino Retrotech Gauge System RTX-86C-MC-X
5 Star Service
Easy Returns
Secure Payments
Free ground shipping orders $50+
Description
Dakota Digital 1986-88 Monte Carlo Style RTX Instrument System, fits 1978-88 Chevy Monte Carlo, 1978-87 Chevy El Camino / Malibu and Caballero - RTX-86C-MC-X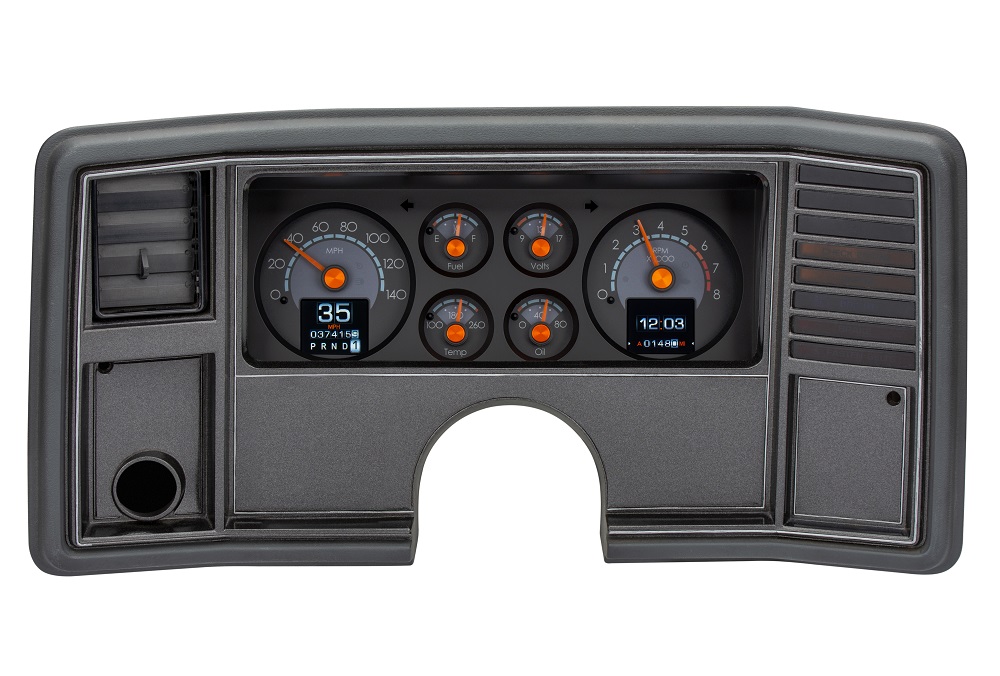 ---
This listing is for the RTX-86C-MC-X Retrotech Series gauge instrument system.

Covering both ends of the 1978-87 Chevrolet G body production run, Dakota Digital's direct fit systems combine the look of the early (RTX-78C-MC-X, sold separately) or late (RTX-86C-MC-X) instrument clusters with full-color LED backlighting and TFT message center displays. Use your stock, round-gauge style cluster for installation in your Monte Carlo, Malibu or El Camino! Does not fit sweep-style clusters. Bezels and housing not supplied.

This listing is for the RTX-86C-MC-X, which is based off the look of the later models, 1986-88 Chevy Monte Carlo. Please also check out the RTX-78C-MC-X (sold separately), which is based off the earlier models.


*Bezel not included, shown for visual/presentation purposes.
System uses OEM or reproduction style bezel.

**Will not fit rectangular sweep-style speedometer cluster.**

MTX-86C-MC-X metric system (KM/H and degrees Celsius) is available as a custom option for no additional cost, but may take 4-8 weeks to build. If you want the metric version, just let us know when you make your purchase.


The RTX series is the latest from Dakota Digital, focused on retaining that stock look without sacrificing the late-model features you love. Every effort has been put forth to incorporate OEM design elements regarding the layout, face styling and indicators. A casual glance may dismiss these as original equipment, but once you hit the switch and the LED backlighting comes on in your favorite color scheme, all doubts will be removed.

Starting from scratch, CNC machined housings are filled with electronics designed and built in-house, helping Dakota Digital once again raise the bar for aftermarket instrumentation. The high-definition TFT message centers can be fully configured to display just about any piece of information needed, or just leave the vintage-looking tumbler odometer on the screen for a totally stock appearance. As you've come to expect from Dakota Digital, the RTX series utilizes a central control box to make installation and setup as easy as possible. Please scroll through the listing below for a more in-depth look at the RTX series and lots more pics!

RTX System Includes:

Analog Gauges

Speedometer - 0-140 MPH (optional metric version 0-210 kmh)

Tachometer - 0-8,000 RPM
Oil Pressure - 0-80 psi
Water Temperature - 100-260ºF (optional metric version 40-120ºC)
Fuel Level - E, 1/4, 1/2, 3/4, F
Voltmeter - 9-17 VDC

Digital Bar Graph Gauges

Tachometer - 0-8000 RPM

Digital Message Centers

Standard Displays:

Odometer (One time user settable, Million Mile)
Dual (A/B) Trip Meter (0-9,999.9)
Clock (12 hour)
Estimated Range/Miles to Empty


Performance Meters: 

0-60 MPH Timer (0-100 kmh)
1/4  and 1/8 mile time
1/4 and 1/8 mile end speed (trap speed)
High speed recall
High RPM recall

Built-In Indicators:


Turn Signals (Left/ Right)
High Beam
Check Engine
Parking Brake
Cruise Control (On/ On & Engaged when vehicle is equipped)
Gear Position (Optional GSS-2000 sensor required, sold separately)
4 x 4 (When vehicle is equipped)
Wait to Start (When vehicle is equipped)
Two Auxiliary input indicators with user-programmable labels
Each analog gauge sweep contains a red LED indicator for quick notice of a warning condition (except speedometer)

**Not all OEM indicator lamp functions will be replaced.
If additional indicators are desired within the new instrument system, consider repurposing any unused indicators to suit your application.
Lighting:

Colors
Over 30 user-selectable color options allow you to independently change the needle color, sweep color and digital TFT display color.
Brightness
Both daytime and
QUESTIONS & ANSWERS
Have a Question?
Average Response Under 5 (Business) Hours
Ask a Question