KFI AMP-25 Polaris ATV 2500 Plug-N-Play Assault Series Winch - AMP-25
KFI AMP-25 Polaris ATV 2500 Plug-N-Play Assault Series Winch - AMP-25
Regular price
$34950
$349.50
Sale price
$33039
$330.39
Save $19.11
Free ground shipping on orders 50$+
KFI AMP-25 Polaris ATV 2500 Plug-N-Play Assault Series Winch - AMP-25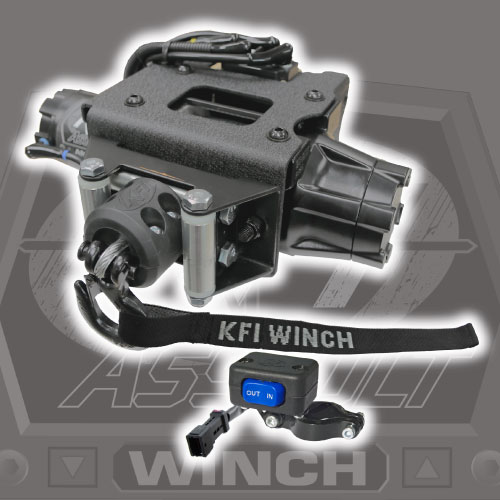 Winch Details:
Whether it's on a winding trail, plowing snow or deep in the mud, a reliable winch is the most important accessory a rider can have. Equip your Polaris ATV with a KFI Polaris ATV Plug-N-Play Winch Kit and feel confident you can pull yourself out of any situation. Our team here at KFI Products designed this winch kit with the user in mind, this kit comes completely assembled and ready to be installed. This kit is equip with an Assault 2500lb KFI Steel Cabled Winch pre-installed in a Polaris ATV Winch Mount, Electric Contactor and a Handlebar Mini-Rocker. Both the Electric Contactor and Handlebar Mini-Rocker are designed to plug directly into the Polaris OEM Winch Handlebar Wiring Harness making this kit an extremely easy to install and a user friendly product.

Winch Includes: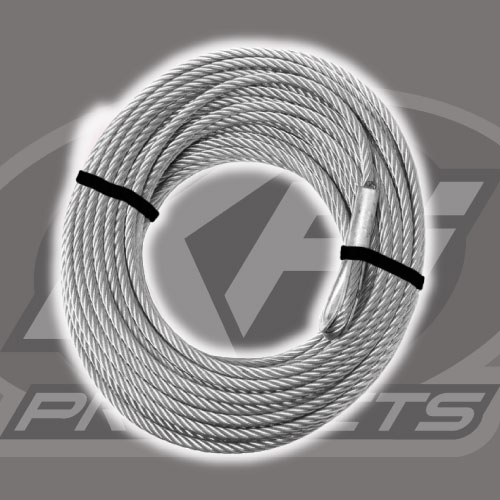 3/16" x 45.9' Steel Cable. #ATV-CBL-3K

---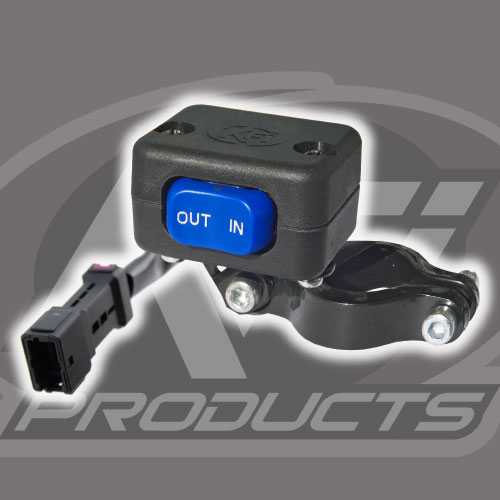 Take control of your winch with the all new Polaris ATV Mini Rocker Switch (#AP-MR). Designed to work with Polaris OEM pre-ran harness for easy install. It comes with an adjustable bracket to mount onto your ATV's handlebars. This allows you to control your winch with just the touch of your finger, never having to let go of your handlebars.

---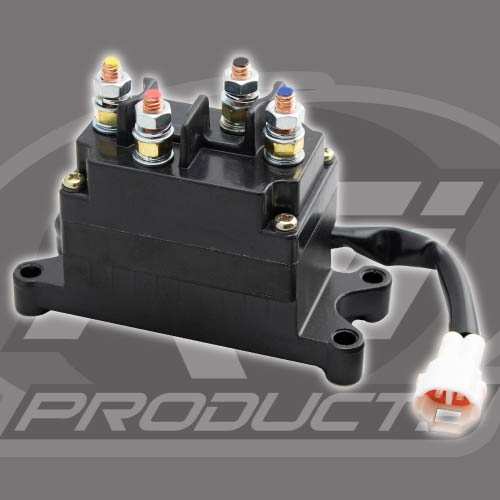 The included all new Heavy Duty Electric Contactor (#AP-CONT) is designed to work with your Polaris OEM pre-ran harness and protects your ATV's electrical system. This part is what switches the power distribution of your winch that is controlled from your switches. This contactor comes pre-installed and wired to rear of the assembly, set-up for the 850 and 1000cc machines. Relocation to the side by two simple screws will set this kit up for the smaller cc ATV's.

---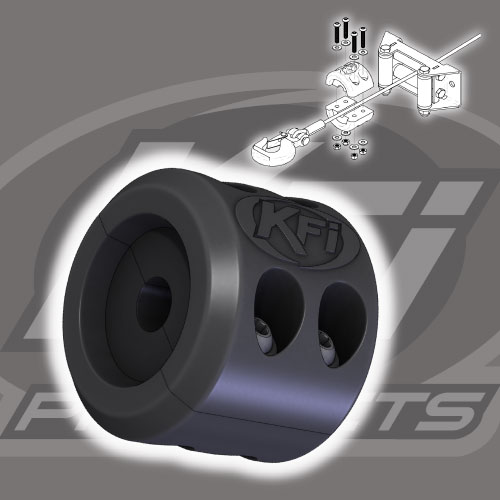 Included is our KFI Split Cable Hook Stopper (#ATV-SCHS) with the following benefits:
Eliminates wear and tear on your rollers from the hook with can cause cable wear.
Eliminates hook clatter from going down the trail.
Protects the winch motor and gears from pulling the cable in too far and bottoming out on the rollers.
Keeps tension on the hook to eliminate the cable becoming loose.
Also has slits designed in it to work as an anti-kick back for the cable if your cable was to snap.
Looks great.

---
AMP-25 Specifications
Model
AMP-25
Rated Line Pull
2500 lbs.
Motor
12V DC, 1.07 hp Permanent Magnet
Gear Ratio
180:1
Gear/Transmission
All-metal Triple Planetary Gear Drive
Brake
Dynamic and Mechanical
Clutch (free spooling)
All Metal Cam Activated Freespool
Drum Size
1.75" (D) x 2.76" (L)
Synthetic Cable
3/16" (D) x 45.9' (L)
Fairlead
Multi-directional Steel Roller
Control
Deluxe Handlebar-Mounted Mini-Rocker Control Switch
Winch Dimensions
13.50" L x 4.44" D x 4.76" H
Mount Plate
Included Model Specific Mount
Mounting Bolt Pattern
3.00" x 4.875" (4-Hole)
Recommended Battery
12 Amp/hour minimum
Warranty
2 Year Limited Lifetime Warranty
Winch Weight
26.60 lbs. (complete kit)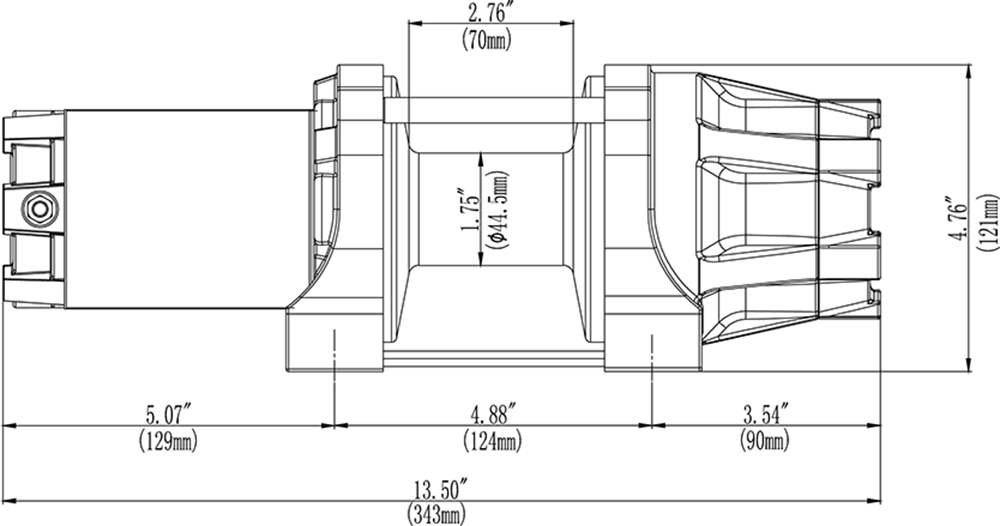 Fitment
| Year | Make | Model | Requires moving Contactor to the Side | Requires Polaris Harness #4015094 |
| --- | --- | --- | --- | --- |
| 2014 | Polaris | Scrambler 1000 XP | No | Yes |
| 2015-2018 | Polaris | Scrambler 1000 XP | No | No |
| 2015-2019 | Polaris | Scrambler 850 | No | No |
| 2013-2014 | Polaris | Scrambler 850 XP | No | Yes |
| 2015-2019 | Polaris | Sportsman 1000 Touring XP | No | No |
| 2015-2019 | Polaris | Sportsman 1000 XP | No | No |
| 2016-2019 | Polaris | Sportsman 450 | Yes | No |
| 2012-2014 | Polaris | Sportsman 550 | No | Yes |
| 2012-2014 | Polaris | Sportsman 550 Touring | No | Yes |
| 2014 | Polaris | Sportsman 570 | Yes | Yes |
| 2015-2019 | Polaris | Sportsman 570 | Yes | No |
| 2017-2019 | Polaris | Sportsman 570 6x6 (Big Boss) | Yes | No |
| 2014 | Polaris | Sportsman 570 Touring | Yes | Yes |
| 2015-2019 | Polaris | Sportsman 570 Touring | Yes | No |
| 2015-2019 | Polaris | Sportsman 570 X2 | Yes | No |
| 2015-2019 | Polaris | Sportsman 570 SP | Yes | No |
| 2012-2014 | Polaris | Sportsman 850 | No | Yes |
| 2015-2019 | Polaris | Sportsman 850 | No | No |
| 2016-2019 | Polaris | Sportsman 850 High Lifter | No | No |
| 2012-2014 | Polaris | Sportsman 850 Touring | No | Yes |
| 2015-2019 | Polaris | Sportsman 850 Touring | No | No |
| 2015-2016 | Polaris | Sportsman ETX | Yes | No |
Brand: KFI
Part Number: AMP-25